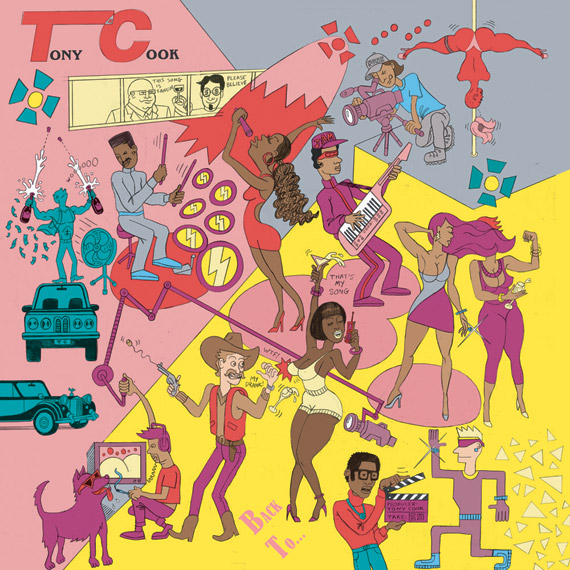 Anthology of rare and unreleased 1982-1986 recordings from The J.B.'s drummer and creator of "the Graddaddy of all House Records," newly mixed by Peanut Butter Wolf.
Read full Stones Throw article and play the MP3 after jump.
solo
Tony Cook - What's On Your Mind feat. Dam-Funk
by
stonesthrow
Stones Throw:
Exclusive 2LP Advance release / Worldwide release: Jan. 25, 2011
Stones Throw releases anthology of rare & unreleased 1982-1986 recordings from The J.B.'s drummer and creator of "the Granddaddy of all House Records"
Upon its emergence in the early 1970s, disco was relatively harmless. It didn't cut itself, spit in your face, or try to split your skull open with a bass guitar. But it also adversely affected a number of long-standing traditions. Among them, pioneering members of the black vanguard, as James Brown explained to writer Bruce Tucker in his autobiography, James Brown: The Godfather of Soul:
"Disco hurt me in a lot of ways. I was trying to make good hard funk records that Polydor was trying to soften up, while the people were buying records that had no substance. The disco people copied off me and tried to throw me away and go with young people."
Brown first discovered Tony Cook in 1973, playing at a block party for the WRDW-AM radio station he owned in his childhood hometown of Augusta, Georgia. Cook was still in high school at the time, but stayed on stayed in Brown's sights til the early part of 1976, when Brown began to retool the J.B.s and brought Cook aboard as his new drummer. Cook would hold this position off and on for the next thirty years until Brown's death on Christmas Day in 2006.
As work with the J.B.s slowed in the disco era, Cook moved to London and went independent, scoring a deal in 1981 with Osceola Records and producing the first Tony Cook and the Party People singles. The next year, he began working with the Halfmoon label, releasing the seminal "On the Floor" and "On the Floor (Rock-It)" mixes by WBLS-FM DJs Timmy Regisford and Boyd Jarvis.
"On the Floor" found Cook successfully merging funk and disco, although that was not the original intent. The drummer-turned-producer was admittedly trying to score a hit, and to do so, chose to ride the other emerging genre of the day. "'On the Floor' was a rap record at first," he reveals. "Regisford and Jarvis took the master and re-recorded a few things, added a few things. Then, we didn't know what to call it, but it definitely wasn't a rap record anymore. It had more of a dance kind of thing going through it. And it had a little bit of techno to it. When we released it in 1984, the phrase 'garage' came out, then 'house' came out, and someone called it 'The Granddaddy of all House Records', so we knew we had something different and new."
"I first became aware of Tony through the song 'On the Floor'," says Chris "Peanut Butter Wolf" Manak. Manak is the founder of Stones Throw Records, home of Cook's Back to Reality anthology, a collection of rare and unreleased funk, boogie, and proto-rap from the immediate post-disco era. "I found the record in NYC about seven or eight years ago and started playing it in my DJ sets. It sounded like the missing link between funk and house music. For being released in 1984, to me, it seemed like the first house record. I loved playing it."
The Back to Reality selections were originally recorded as side projects during Cook's work for Halfmoon. These offerings remain as fresh today as when they were originally recorded. The songs symbolize independence and a willingness to adapt, and having been on hold for so many years, are a timely addition to the present boogie and post-disco resurgence. "It's bringing me back to where I left off in the early '80s," Cook muses, "and I feel fortunate to have had the chance to be a part of that era." Nearly thirty years later, he is finally getting back to his reality.
-- bio by Ronnie Reese
StonesThrow.com